As a Wedding Celebrant I have conducted wedding ceremonies with as little as 2 people on a beach to 250 in a formal setting on the terrace of the iconic Burj Al Arab. Every wedding ceremony is so very unique and wonderful with its own magic and atmosphere and I truthfully can't say I have one favorite: they are all my favorites!!
Having said that I want to chat about the fabulousness (this is my own word creation)of small intimate weddings. As an expert on marriage and weddings, I would like to share some top tips for brides-to-be to consider as you plan your wedding.
The question: Big Wedding or Small Wedding? This is always a personal decision, but I always like to tell my couples to keep in mind that their wedding is all about THEM, and they should not make decisions based on what they think their guests might expect. This is all about you, celebrating your love for each other and it should reflect your personality and your love.
Another advantage of a small intimate destination wedding is that you can have a great time in the days leading up to the wedding exploring as a group all the destination has to offer.
Its all such a fantastic build up to the wedding itself, and everyone is having fun together. We hired quad bikes for a day as a group and explored the island of Santorini, literally from end to end, and discovered that there is so much more to the island than the little white and blue houses perched on the cliff edge! 
We discovered that there are 14 little villages on the island, each with its own charming character. We discovered vineyards, and unique off the beaten track restaurants on the edge of hidden beach coves.
We spent an afternoon and evening sailing on a catamaran, enjoying the friendly happy crew, lots of celebrations on board as we toasted the happy bride and groom-to-be!
We watched the sun drop into the ocean, and kissed the day goodbye on the water!
Come the wedding day we were all so excited, and the bridal couple very relaxed!
The day after the wedding we all departed and the couple stayed on in Santorini and enjoyed a fantastic honeymoon.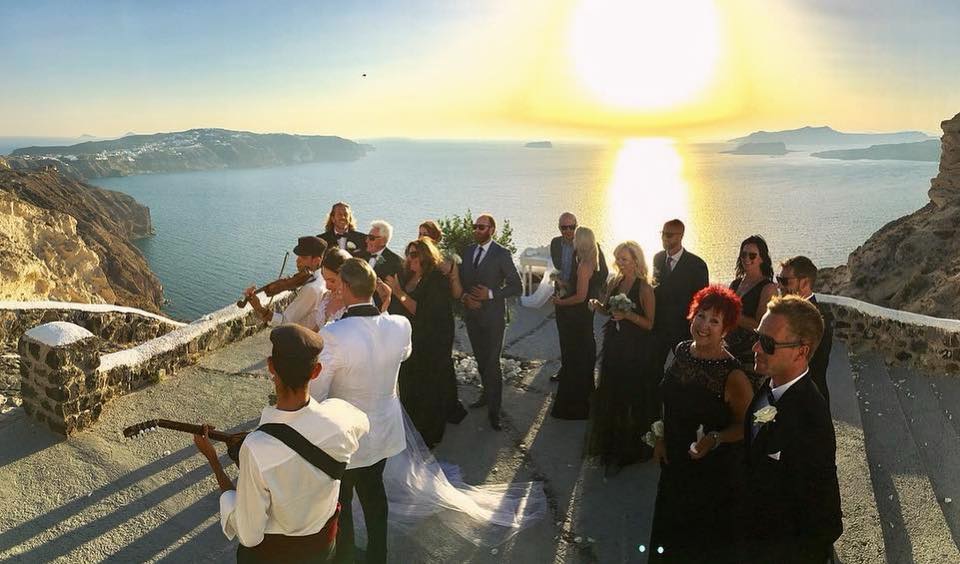 Every couple wants to have a beautiful wedding day and so you should as its a celebration of your love! This most certainly can be achieved with small intimate weddings, so why not give it some thought.
Remember its all about YOU!