One of the topics brides-to-be ask about on social media, is the matter of the Wedding Favor! Frantic comments such as: I need inspiration for my wedding favors that won't break the bank yet still be fabulous; any diy wedding favour ideas for hands-on brides-to-be; I want something more elaborate that says wow; a wedding favor that guests will be able to use and enjoy after the wedding so that the cost involved is actually justified.
My rule of thumb regarding the wedding favor, irrespective of the price, is that it should provide guests much pleasure and use long after the wedding. This means that your money was well spent on the wedding favor, and your guests have long term enjoyment of your wonderful happy day!
Gone are the days of the pink and white sugar coated wedding favor almonds wrapped in a little bag. They were all the rage when I was growing up, and come to think of it, who knew then that I would find my passion in the wedding industry years later!
Nowadays, there is such a freedom of choice as bridal couples can let their imagination run wild for their ceremony, especially if it's a Celebrant led ceremony. I always tell my couples their wedding day and their ceremony is all about THEM, and that should be their true north in all their decision making. This includes the Wedding Favors.
As a Wedding Celebrant I conduct so many ceremonies, and I get to see the beautiful settings for the ceremonies. Oh my goodness, a visual expression of love and romance that makes my heart sing!! So much care and detail that has gone into the planning of making this day absolutely memorable, and the wedding favors chosen with much love.
As a guideline, your wedding favor should tie in with your wedding theme, decor and setting, and this should already then get you out of the starting blocks so to speak, of choosing a wedding favor that's complimentary as well as providing your guests much joy.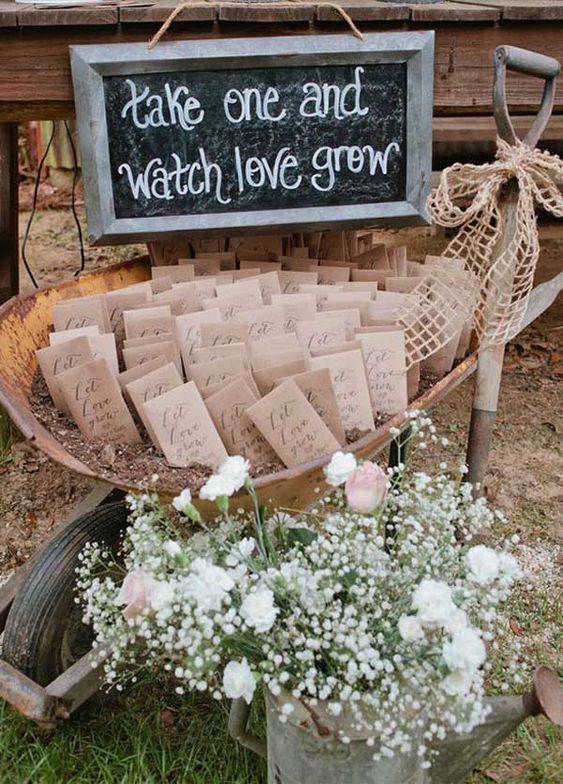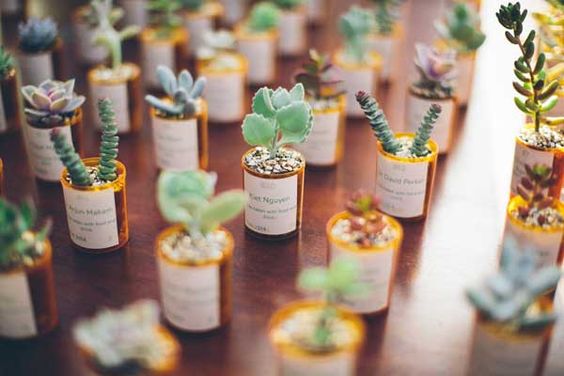 If you are celebrating your ceremony in a garden, how about sending your guests home with a little packet of seeds of your favourite flower? Or perhaps a miniature succulent or cactus in a cute little container? A small jar of honey with a note that says love is sweet?
What about sending your guests home with a small bottle of bubbly with a note stating to drink and enjoy it one month after your wedding? This way it evokes and brings back beautiful memories of a fabulous wedding! Cheers everyone!
How about handheld fans made of lace, bamboo, paper or feathers if you're getting married during the summer season; they are an absolute miracle when sitting in the sun.
My daughter had fans made of white paper and bamboo when she got married in Santorini last year, and thy were the absolute perfect wedding favor for every one of us! I still use mine now.
I love this particular one, made by the lovely Nazy Saif of Quite Quaint: a small delicate container with gold trim, filled with dried flowers to make an infused tea, and tied with a little thread of gold. Once I've enjoyed my tea I now store a special ring in it. Dual purpose! Take a look at this picture!
Want something more elaborate? How about this beautiful time piece?
Having a beach wedding? Why not have beach slip slops for every one to wear and take home afterwords. They will always be worn for sure!
Why not a miniature bottle of gin for each guest to take home and enjoy whenever? With such a wide variety of gin available, its a great wedding favor that your guests can enjoy once back home. Who doesn't like a little G&T??
You get the idea? The main things is to make it count: you are spending money on a wedding favor to thank your lovely guests for celebrating your fabulous wedding day with you, so let them enjoy it even after your wedding day!
Now that's money well spent, I say!